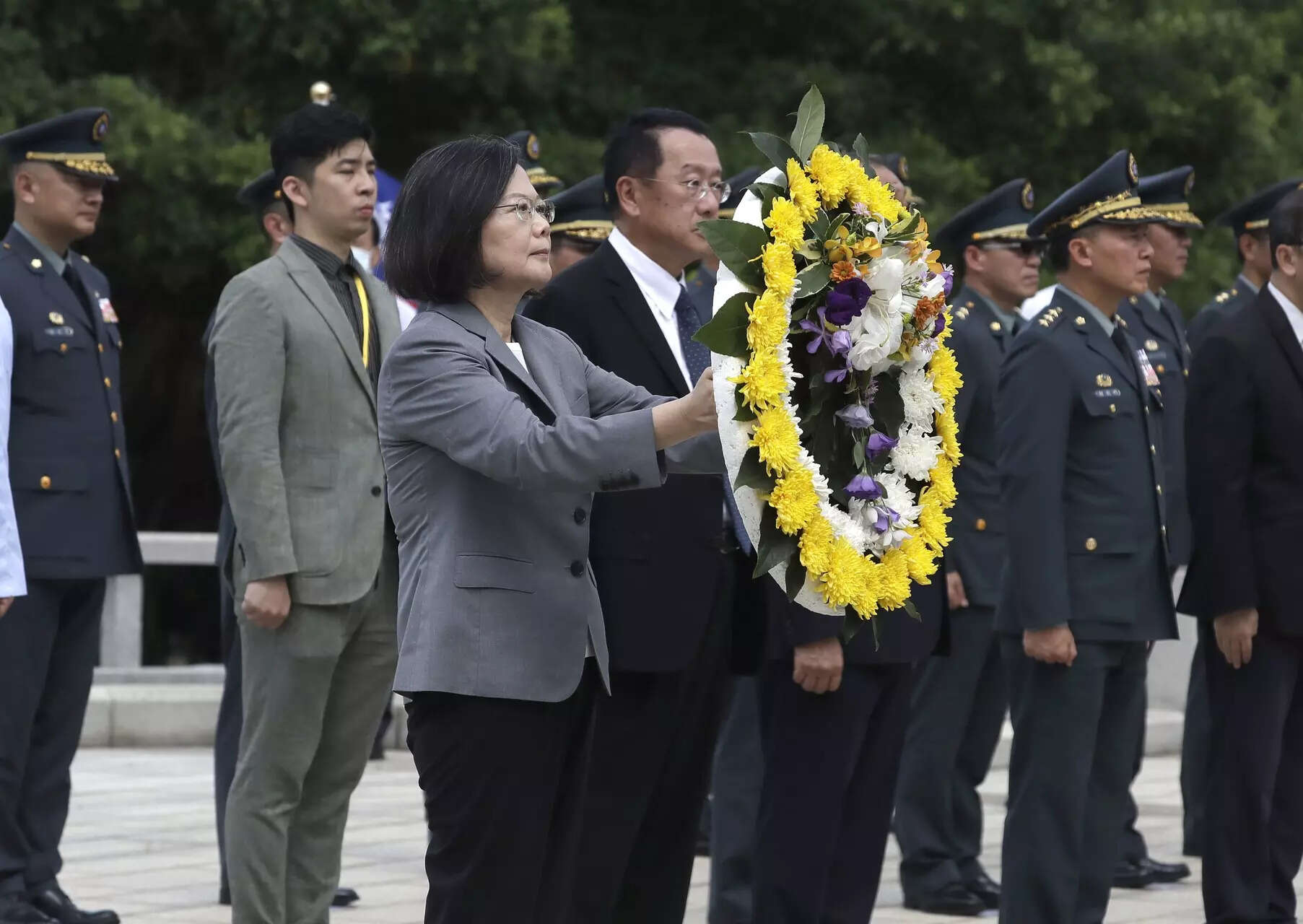 KINMEN, Taiwan: President
Tsai Ing-wen
on Wednesday thanked fallen soldiers who repelled Chinese communist forces 65 years ago in a frontline island battle, crediting their victory with putting Taiwan "on the path to democracy and freedom".
His visit to Taiwan's Kinmen Island, located just a few miles from China, comes as relations between Taipei and Beijing have crumbled in recent years.
Lay a wreath to commemorate soldiers who died in the Taiwan Strait Crisis in 1958, Tsai recalled how the military and civilians "fought with one heart and persisted in repelling the enemy forces that attempted to invade".
Fighting erupted on August 23, 1958, when Chinese forces carried out an intense bombardment of Taiwan's outlying islands of Kinmen and Matsu in an effort to dislodge the Nationalists, who had left the mainland after the end of the Chinese Civil War.
Then-US President Dwight D. Eisenhower ordered reinforcements to supply their Taiwanese allies, and unable to take the islands or bomb the Nationalists into submission, Beijing announced a ceasefire.
"They protected our homeland and thus gave us a chance to move forward on the path of democracy and freedom," Tsai said in a brief speech.
"There would be no Taiwan without our victory."
The anniversary event also brought together veteran soldiers and Hou Yu-ih, the presidential candidate of the opposition Kuomintang party – widely seen as pro-Beijing compared to the ruling Democratic Progressive Party.
Echoing Tsai regarding Kinmen's "sacrifice, dedication and effort", Hou said "peace between the two sides is what we all want".
"I have always emphasized that if the Taiwan Strait is stable, Taiwan is safe and people can have peace of mind," said Hou, who faces the vice president in the lead. Lai Ching-te in the next presidential election.
China considers Taiwan its own territory and has promised to take it one day – by force, if necessary.
Beijing has stepped up military and political pressure against Taipei, conducting air and naval drills whenever senior Taiwanese politicians meet with other countries, including the United States.
Over the weekend, China held air and sea exercises around the island, which were launched in an apparent show of force after Lai's recent stops in the United States.
Also in Kinmen was Foxconn founder Terry Gou, who has expressed his presidential ambitions and organized campaign-style events but lacks the backing of any of the major parties.
"Sixty-five years later, the situation on both sides of the Taiwan Strait is dangerous and could lead to chaos," Gou said in a speech at another event.
"How did we get to the current situation of continuous military exercises…and warships shuttling with threats?" he said, calling on "both sides of the strait" to reopen dialogue.