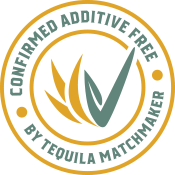 In 2020, we launched our Tequila Matchmaker Additive-Free program for brands and distilleries that want to be super transparent about their production processes and their non-use of additives. This is an opt-in program, which must be renewed each year.
Inspections are done on-site and can last anywhere from a few hours to a few days, depending on the number of brands and products we review at the distillery. In addition to auditing production, we ask lots of questions and perform sensory analysis throughout the various stages of the tequila-making process.
You can find out more about our methods and program objectives, here.
This list will be updated each time a brand is added (or removed) from the program. You can use the form (below) to subscribe to email alerts whenever this list changes.
---
---
If you are a brand and would like to be added to this list, you can start the process using this form.
---
Alerts without additive
Use this form to receive email alerts of any changes to this list. Updates include when brands are added, removed, expired or renewed.
---
Image gallery
Here are some images taken during our free additive tours. We have full access to all areas of the distillery and are authorized to take samples from any part of the process.