Raj Bhakta and his final chapter on spirits
Raj Bhakta holds court in a former college campus classroom he purchased to house BHAKTA Spirits
---
These are among the oldest in the world and bear the name
BHAKTA Spirits – and they live on a college campus in Vermont.
Raj Bhakta is larger than life; a dynamic, motivated, handsome and swaggering man. It seems that this kind of personality, who founded the successful whiskey brand WhistlePig, didn't stop distilling after selling his share of that company.
Bhakta was looking for something new and stunning in its uniqueness and quality. Bhakta Spirits was born and, with it, potentially the finest and oldest Armagnacs in the world. Long a popular French digestive, Raj secured a chateau in southwest France, south of Bordeaux, in the Armagnac region with a cache of barrels dating from the early 20th century.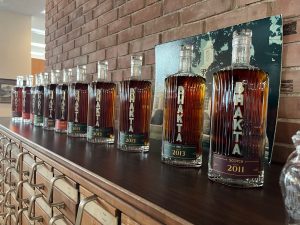 Raj tells the story of spending time in France with his wife and three children, living the good life and exploring the country in a Cadillac Escalade, a very atypical car for Europe, regardless of which country you are visiting. When Raj tells the story of his wife, pregnant with child #4 (now almost five), chasing him out of a chalet in the Alps with a broom, the gleam in his eyes indicates that this is the trigger that founded BHAKTA Spirits. Raj hit the road and drove straight to the Armagnac region, knowing there was an Armagnac-producing family with a chateau full of aged spirits that they could eventually be convinced to sell.
A goldmine for a spirits aficionado, Raj was sure the family patriarch would hear him singing Disney tunes in his outrageous car and slam the door before even getting inside. Yet, somehow, his charm (and his many US dollars) allowed Raj to be welcomed into the historic family and Bhakta Spirits became the brand with the oldest collection of Armagnac in the world. world.
This enormous collection of Armagnac, and other aged spirits like Calvados, rum, and rye, is now housed in the library building of the former Green Mountain College, a classic New England campus in the city from Poultney, Vermont, near where Raj, his wife and four children live on a bucolic farm in the beautiful town of Shoreham. The old college was destroyed by its unfortunate board of trustees and Raj bought the whole thing, lock, stock and barrel. Totally intact, including the library books, the gym's giant swimming pool, the ballroom-style dining room, the honors dormitory (where I stayed during my visit), and the laboratory scientific, where we created a fantastic blend of Armagnac, rye and Calvados called "Les Mathématiques" and bottled in a limited edition of four.
The impressive Green Mountain College is now the BHAKTA-Griswold campus and currently hosts writers and spirits buyers for crazy, fun, spirits-fueled retreats that provide a glimpse of what's to come from Raj and Bhakta Spirits, and Of the history. is long, winding and fabulous. This campus will become a welcome center and launch BHAKTA as the revolutionary and elegant brand that Raj Bhakta envisions and all of us who have visited believe it will become.
In addition to being committed to growing a business in this small town, the Bhakta family was very involved in growing their business.
The community, founding a school and supporting many local businesses, was left behind with the failure of the old college. Poultney sees a renaissance in his distilling and hospitality, which may be more sustainable than higher education!
Follow Raj and BHAKTA on a wild adventure that is sure to be glorious and industry-changing. I feel privileged to have been there from the early days and plan to stay on this carousel of innovation and tasty spirits and see how the ride goes. If you have any idea what Whistlepig's premium "Boss Hog" sells for as it gets older, you'll know it. realize the value of Bhakta spirits as they age and become rarer and rarer.