Although outbound travel grabs the headlines, the main barometers of China's travel and its new behaviors and spending patterns lie within its vast borders.
Due to the lingering impacts of COVID-19 between 2020 and 2022, 2019 remains the benchmark for recovery.
Chinese travelers made 6 billion domestic trips in 2019. This figure more than halved to 2.8 billion in 2020, followed by a rebound to 3.4 billion in 2021 and a further decline to 2 .6 billion in 2022.
Once travel restrictions are removed, the China Tourism Academy predicts 5.5 billion trips in 2023, or 92% of the 2019 total.
Based on Phocuswright's travel research report China Travel Market Report 2022-2026gross travel bookings are expected to increase 72% to $153.7 billion in 2023.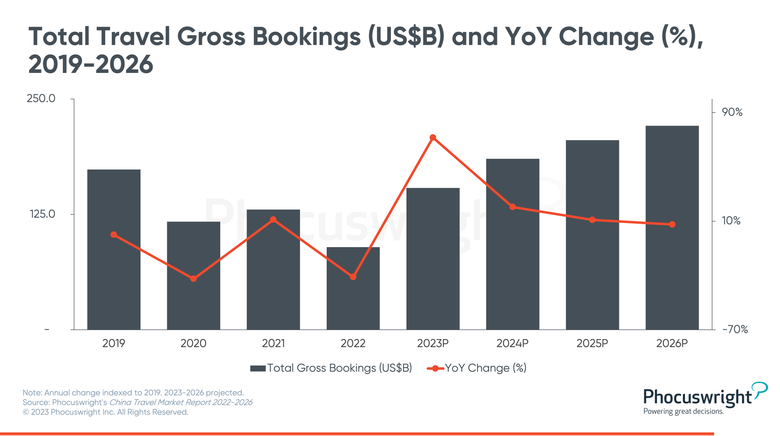 Here are the key factors that will contribute to China's growth:
China's mobile-first consumer market is constantly evolving, fueled by smart app technologies. This is reflected in the travel economy, with new trends and behaviors continually developing and diversifying. China's online travel infrastructure relies on mobile bookings and cashless transactions.
Its airlines are aggressive competitors in regional markets and adding locally made planes to their fleets.
The country's high-speed rail network is unrivaled in size and is rolling out faster, more comfortable trains.
The car rental segment is evolving rapidly and matches consumers' passion for trips booked on mobile.
The hotel pipeline is reactivating with new budget, midscale and luxury openings in cities across the country.
The MICE business is strengthening and the cruise segment is entering a new era of Chinese-made cruise ships.
Learn more!
Phocuswright's
China Travel Market Report 2022-2026
provides a comprehensive view of the China travel market, including detailed market size and projections, distribution trends, analysis of major travel segments, key developments and much more.