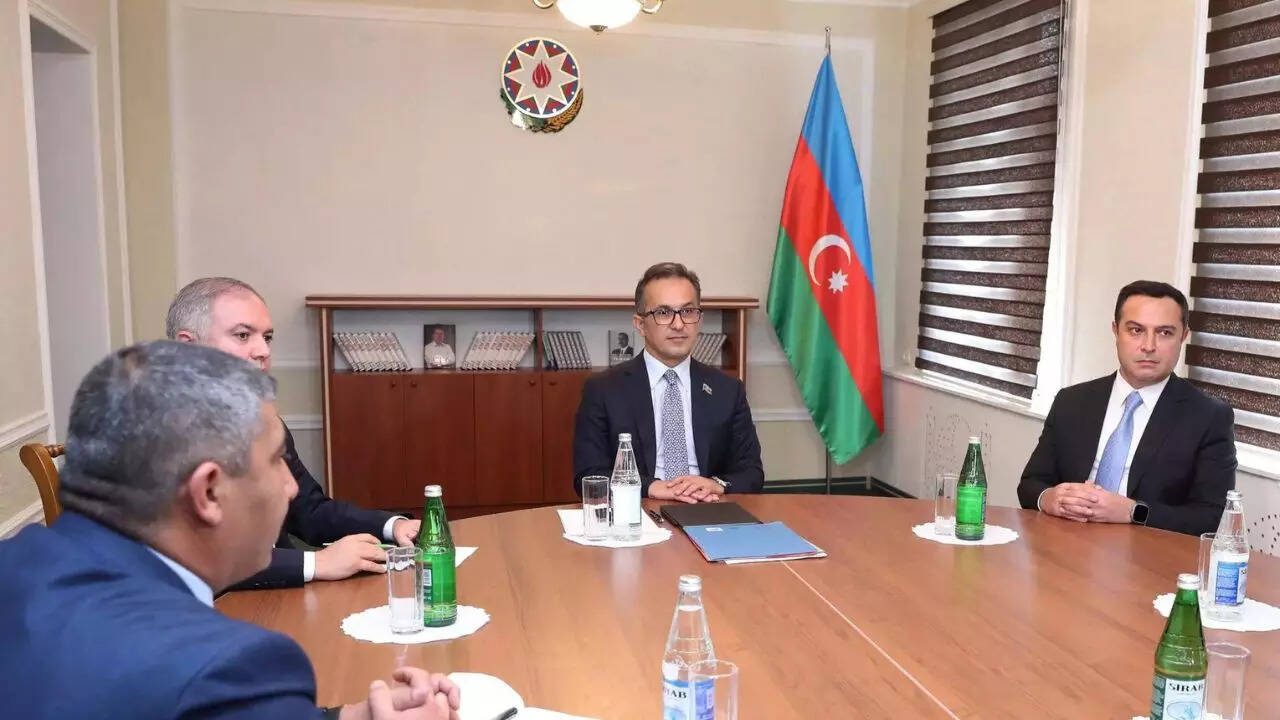 NEAR KORNIDZOR: Armenian secession leaders Nagorno-Karabakh said on Friday that there were no concrete results yet from the negotiations with
Azerbaijan
on possible security guarantees or an amnesty that Baku is proposing after an offensive in the region.
Azerbaijan is considering an amnesty for Karabakh Armenian fighters who give up their weapons, although some have vowed to continue their resistance, Hikmet Hajiyev, foreign policy adviser to the Azerbaijani president, told Reuters.
Karabakh Armenians said an agreement had not yet been reached.
"These issues still need to be resolved," David Babayan, an adviser to Samvel Shahramanyan, president of the so-called Republic of Artsakh, told Reuters. "There are no concrete results yet."
Babayan said an agreement had, however, been reached for a humanitarian convoy to leave
Armenia
via the Lachin corridor on Friday.
Seven Russian peacekeeping vehicles, including large trucks, crossed an Armenian checkpoint towards Nagorno-Karabakh on Friday, a Reuters journalist at the scene said.
"The situation is very difficult: people are hungry, there is no electricity, no fuel – we have many refugees," Babayan said of the situation in Karabakh.
Azerbaijan's 24-hour blitzkrieg military operation this week forced Ethnic Armenians Karabakh to accept a humiliating ceasefire deal on Wednesday that fueled calls for the resignation of Armenian Prime Minister Nikol Pashinyan.
The future of Karabakh and its 120,000 ethnic Armenians hangs in the balance: Azerbaijan wants to integrate the breakaway region, but ethnic Armenians say the world has abandoned them to a fate that could include ethnic cleansing.
Azerbaijani President Ilham Aliyev pledged to guarantee their rights, but said his iron fist had consigned the idea of ​​an independent Armenian Karabakh to history and that the region would be transformed into a "paradise" part of Azerbaijan.
Azerbaijan's claim of victory over the region opens a new twist in the tumultuous history of mountainous Nagorno-Karabakh, which over the centuries came under the sway of the Persians, Turks, Russians, Ottomans and Soviets.
It could also shift the delicate balance of power in the South Caucasus region, a mosaic of ethnicities crisscrossed by oil and gas pipelines where Russia, the United States, Turkey and Iran vie for influence.
Amnesty?
Azerbaijan's presidential foreign policy adviser Hajiyev said Baku was considering an amnesty for Karabakh fighters who surrendered their weapons.
"Even regarding former servicemen and fighters, if they can be classified in this way, and even for them, we are considering an amnesty or also hinting at an amnesty," Hajiyev said.
The rights of Karabakh Armenians will be respected as part of their integration into Azerbaijan, he said, adding that they had requested humanitarian aid as well as supplies of oil and gasoline. Three shipments of humanitarian aid will be delivered to the region on Friday, he said.
"Currently, we see that some military groups and individual officers have publicly stated that they will not accept our conditions and will continue their resistance," he said.
"But we don't consider this to be the biggest challenge, nor the biggest security challenge. Of course, it will bring some challenges and difficulties, but not on such a large scale."
Karabakh is internationally recognized as part of majority-Muslim Azerbaijan, but its Christian Armenian population has held de facto independence since breaking into war in the 1990s when the Soviet Union collapsed.
After a 2020 war in which Azerbaijan was victorious, Pashinyan of Armenia was forced to accept Azerbaijan's control over a much larger territory.
Many of Karabakh's 120,000 Armenians say they have been abandoned by Russia, the West and Armenia itself – and have repeatedly said they fear persecution by Turkey-backed Azerbaijan.
Thousands of Karabakh Armenians were still massed at the local airport where some Russian peacekeepers are based, according to photos posted on social media.
"We need commitment from the international community, not indifference," said Ruben Vardanyan, a former state minister in the separatist government.
Babayan said there was no large-scale population movement yet because the area was effectively under siege.
Armenia's Pashinyan, who faced protests in Yerevan calling for his resignation over Karabakh, said the government had prepared space for a possible flow of people to Armenia but did not want to depopulate Karabakh.
"We must do everything (…) so that our compatriots, residents of Nagorno-Karabakh, have the opportunity to live at home without fear, in dignity and in security," he declared, adding that his country was the subject of an information war.
He warned earlier in the week that unidentified forces were talking about a coup against him.
Russia, which has just under 2,000 peacekeepers in Karabakh, has called for calm but has been accused by some Armenians, including Pashinyan, of not doing enough to support Armenia.
In a video posted on social media, two men were shown throwing red paint at the Russian embassy in Yerevan.