This Homemade Garlic Yogurt Sauce is creamy, tangy and SO easy to make! Mix it up in minutes to jazz up wraps, roast vegetables and more.
This Garlic Yogurt Sauce is the easiest sauce you'll ever make. In fact, it's so simple that I wondered if I should even share it. Does a recipe of 5 ingredients and 5 minutes really deserve its own blog post?
But here's the thing: I've been making this garlic yogurt sauce for years. It's the perfect "emergency sauce". When preparing a meal…Tacos, wraps, quinoa bowls – and you realize you need something creamy and tangy to drizzle on top, this Garlic Yogurt Sauce is here for you. You always have the ingredients in your pantry. You can make it in minutes (no food processor or blender required!).
So I hope you enjoy this recipe, a creamy sauce you can make in a snap. It's super simple and that's a good thing.
Garlic Yogurt Sauce Recipe Ingredients
You need 5 ingredients to make this recipe:
Plain Greek yogurt – Full-fat yogurt gives this recipe the best creaminess and richest flavor. I recommend using it, but feel free to substitute plain fat-free or low-fat Greek yogurt if you prefer!
extra virgin olive oil – It thins the yogurt and adds a fruity depth to the flavor.
Fresh lemon juice – This makes the sauce shiny and tangy.
Garlic – It adds salty spice.
And sea salt – To bring out all the flavors!
Add these ingredients to a medium bowl and mix. I usually add 1 tbsp of water to thin the sauce slightly, but you may need to add more (or none at all) depending on the consistency of your yogurt. Season to taste and enjoy!
Find the full recipe with measurements below.
VARIANTS
Add fresh herbs. Stir 2 tablespoons of chopped leafy herbs into this sauce for a refreshing kick. Fresh dill, cilantro, parsley, basil and mint would all be delicious here.
Use roasted garlic. For a milder garlic flavor, substitute fresh garlic with roasted garlic puree. Start with 1 clove and add more to taste!
Give it a stronger garlic flavor adding 1/4 teaspoon of garlic powder.
Change citrus. Use lime juice instead of lemon for a different flavor profile. I love this variation on tacos. If desired, add a little lime zest for a stronger lime flavor.
How to use garlic yogurt sauce
This Garlic Yogurt Sauce goes well with almost any dish! It pairs especially well with Middle Eastern-inspired dishes like this. Falafel or these chickpea shawarma wrapsas it is reminiscent of many yogurt sauces from this cuisine.
Here are some other ways to use it:
Store leftover sauce in an airtight container in the refrigerator. It keeps well for up to 5 days. I like to make it on the weekends so I have it on hand to brighten up meals all week!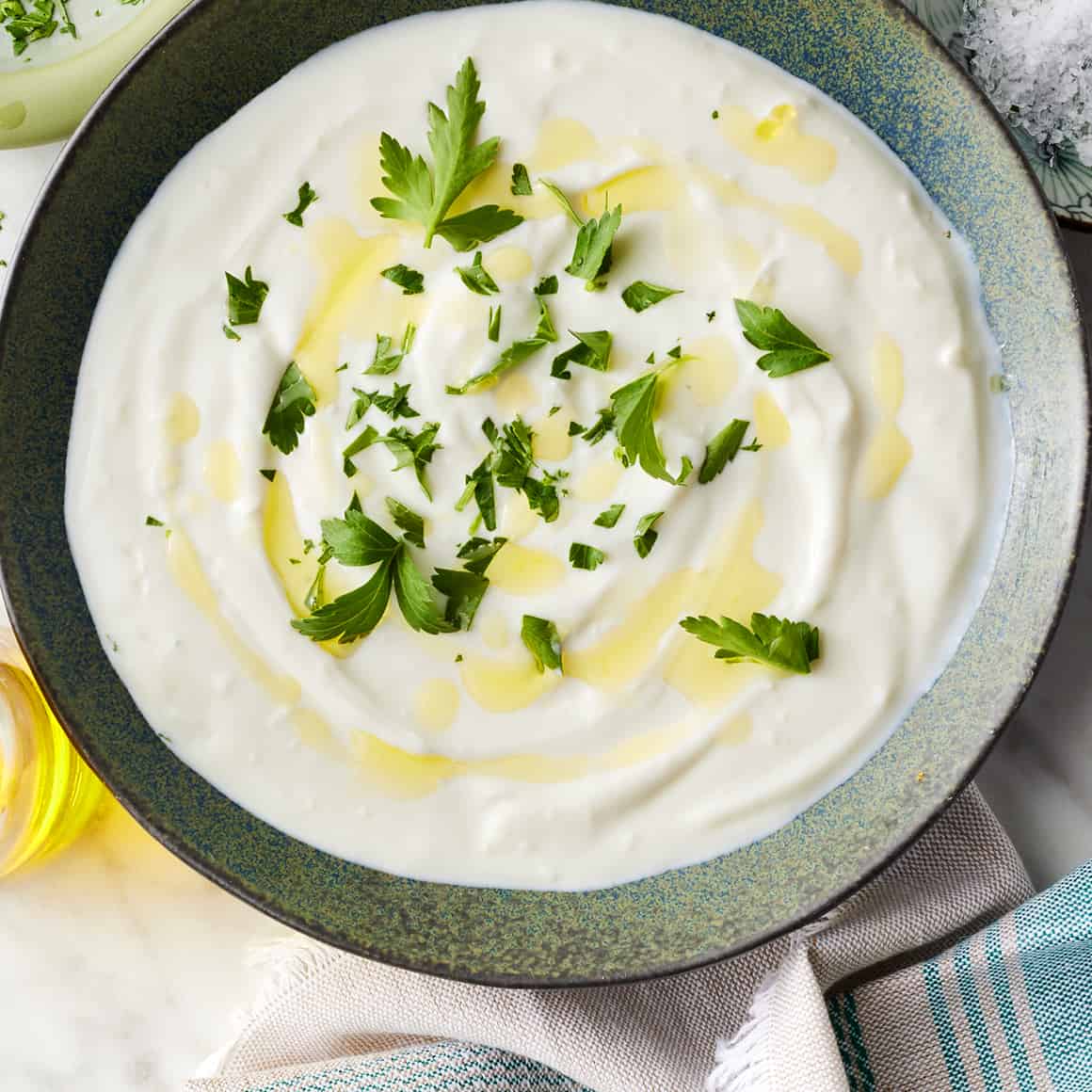 More Favorite Sauce Recipes
If you love this yogurt and garlic sauce, then try one of these easy sauce recipes: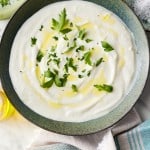 Yogurt and garlic sauce
Serves 4
This Garlic Yogurt Sauce is creamy, tangy and so easy to make! We like to drizzle it over roasted vegetables, add it to chickpea shawarma wraps, or use it as a dip. Find more presentation suggestions in the blog post above.
Prevent your screen from going dark
In a medium bowl, combine yogurt, olive oil, lemon juice, garlic and salt.

Stir in water. If the sauce is too thick, add more water, 1 tablespoon at a time, to thin it down to your desired consistency. Season as desired.

Store the sauce for up to 5 days in an airtight container in the refrigerator.