OOOH BABY, this salad is so good! Kale and crunchy kale, fresh herbs and Fresno peppers, chopped peanuts, and a perfect roasted peanut dressing that slips into every nook and cranny of the salad.
This Crunchy Kale Salad with Roasted Peanuts is SO delicious! I'm very picky about kale in salads, and this one is so delicious to eat thanks to the finely chopped texture of the kale! Plus, it's juiced and smoothed in the best possible way with a light roasted peanut dressing that's lightly sweet and really delicious.
---
In this Article: Everything You Need for Crunchy Kale Salad with Roasted Peanuts
---
Lindsay's Notes
Damn, I've lost count of how many times we've eaten this salad over the past few weeks!
First of all, know that roasted peanut dressing is the only way I want to live from now on. It gives all the flavor of a peanut dressing but without the heaviness; it's much lighter and tastier, penetrating into every nook and cranny of this salad like a regular peanut dressing couldn't. It's fantastic. Plus, the texture of the cabbage and kale makes this salad REALLY ENJOYABLE to eat, and tossing it all together with peanuts and thinly sliced ​​Fresno peppers makes this salad crispy, spicy, hearty and perfect.
The typical order of events for this salad is:
I make it for lunch.
We have the rest for dinner.
In fact, it lasts incredibly well, even with dressing, because kale and cabbage are so filling! I often enjoy our dinner leftovers as much as the original lunch salad because the kale softens even more when it sits in the dressing.
But we don't always do all of this in one day – it also works great for meal prep. I've been known to put a container of shredded kale, cabbage, and herbs in the fridge, along with a container of salad dressing, and basically just toss individual salads all week for incredibly small lunch salads fast that I always do, I always look forward to it.
You can eat this salad on its own, and I do it often, especially as a lunch salad! Or you can do what we did last night for dinner and add some herbed shrimp on the side with a piece of buttered bread. Or what we made the day before: serve it with leftover grilled chicken and rice.
This Crunchy Kale Salad with Roasted Peanuts is my new best friend.
---
How to Make This Crunchy Kale Salad with Roasted Peanuts
Step 1: Make a Quick Roasted Peanut Dressing
Quickly whip or blend a little roasted peanut vinaigrette! The magic ingredient here is the roasted peanut oil (affiliate link) – it makes this dressing taste like peanut dressing but retains a light, silky dressing texture. It may require a trip to a separate store depending on where you shop, but when you find it I recommend buying multiple bottles – I very quickly went through 2 bottles with multiple batches of this salad!
If you can't find roasted peanut oil or if you honestly don't want to bother finding it (I get it), you can use this peanut dressingor use avocado oil instead for a different flavor but similar texture.
Step 2: Chop your vegetables
I make these by hand: cilantro, green onion, Fresno peppers and peanuts.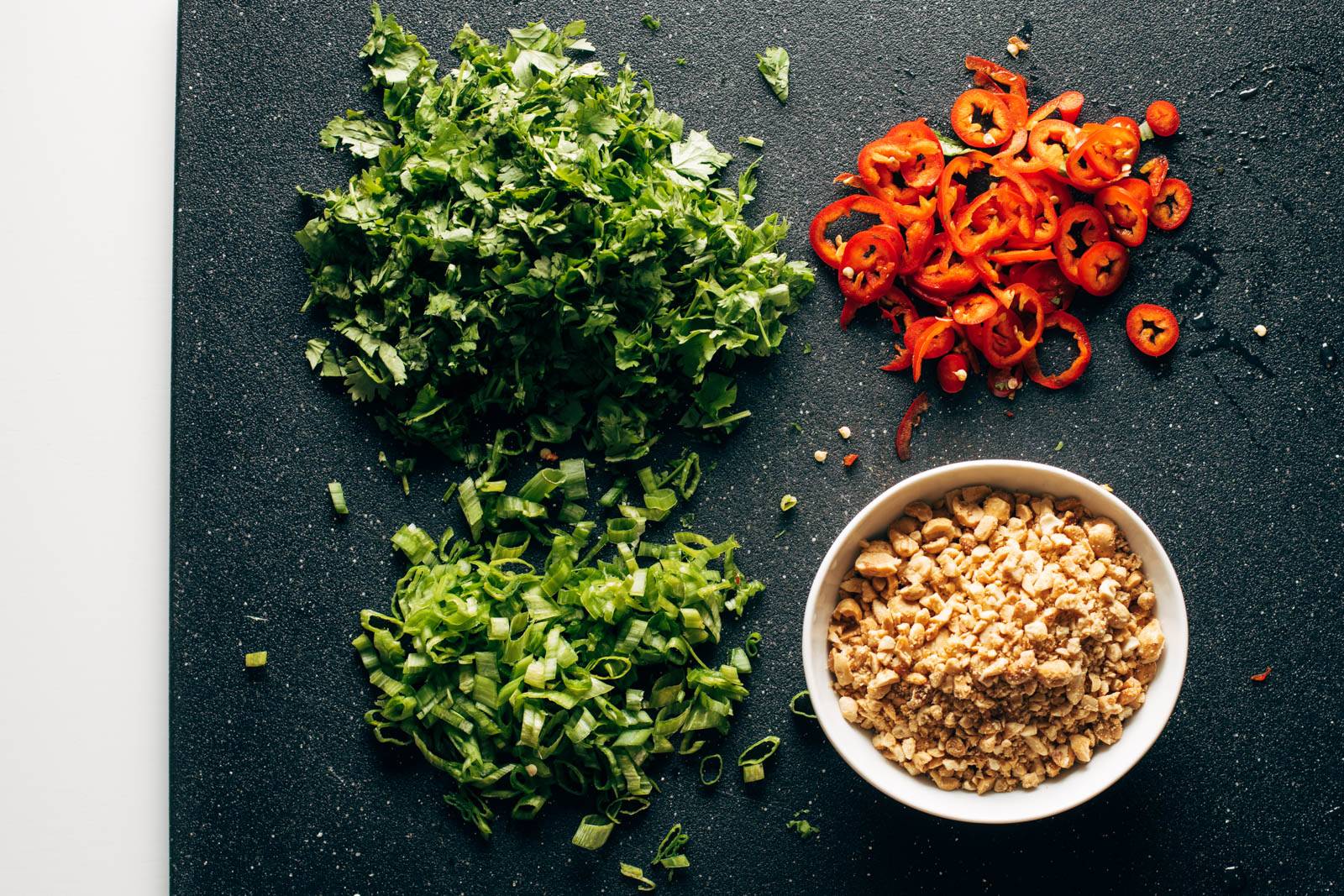 Step 3: Finely chop your greens
Finely chop your kale and cabbage in a food processor for the ultimate chopped texture. I would recommend cutting the veggies into chunks first so they are processed more evenly and doing this in batches. If they start to release too much water, pat them gently or wring them out with a paper towel.
You can store kale and cabbage together in a bowl or container!
Step 4: Combine Everything
Toss your salad dressing, peppers, herbs, peanuts, and greens together! TAKE YOUR LIFE!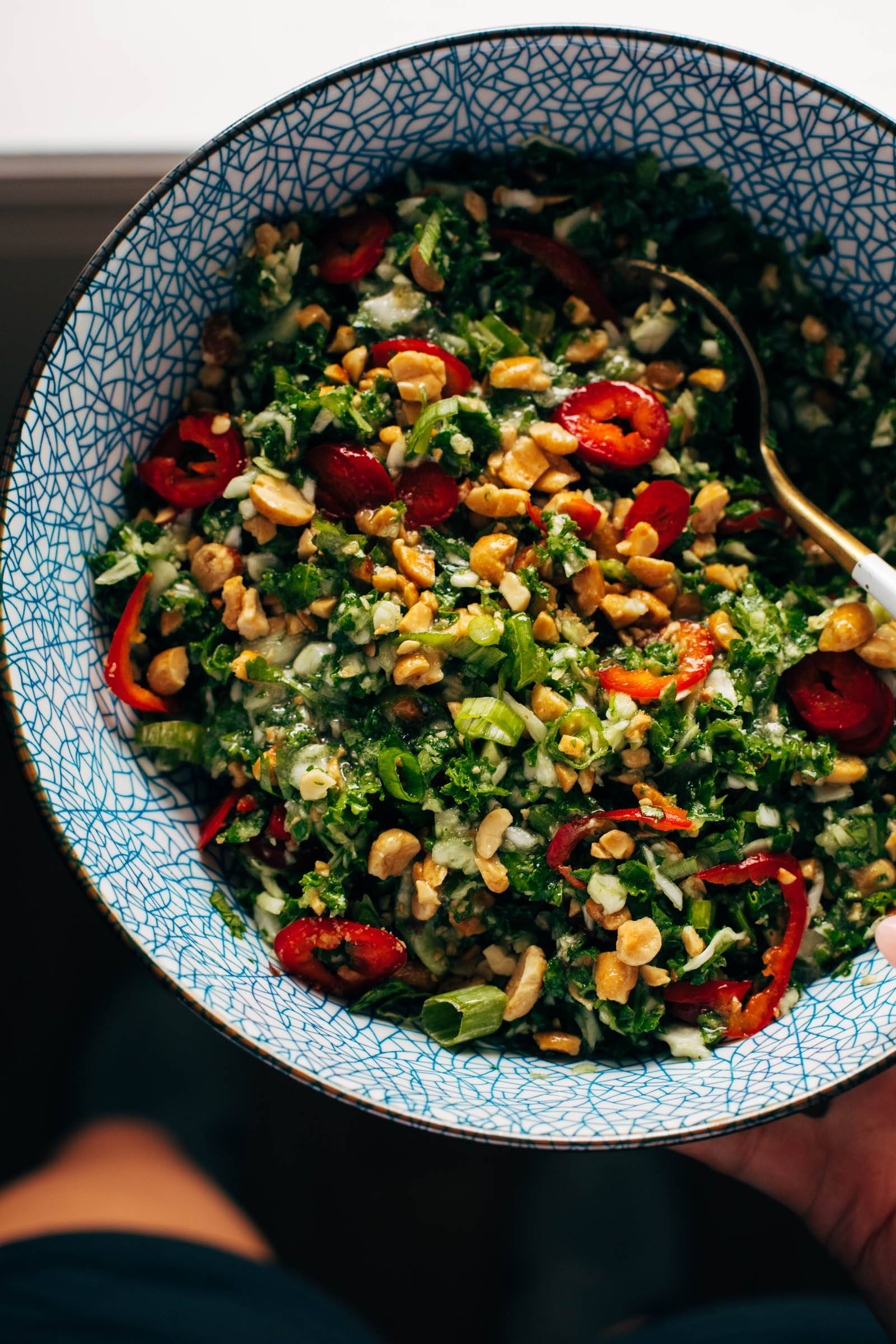 ---
To print
Description
OOOH BABY, this salad is so good! Kale and crunchy kale, fresh herbs and Fresno peppers, chopped peanuts, and a perfect roasted peanut dressing that slips into every nook and cranny of the salad.
---
Crunchy Kale Salad:
Roasted Peanut Vinaigrette:
---
Prepare the Roasted Peanut Vinaigrette: Blend all ingredients in a small blender or food processor until smooth. (This is mainly for incorporating the garlic, so if you prefer, you can grate the garlic into the pot with the other ingredients and shake well to combine.)
Prepare the salad: Chop your herbs, peanuts and fresno peppers.
Chop the kale and cabbage: Using a food processor, process the kale and cabbage in batches until very finely chopped, stopping before the greens become too mushy. If they release too much water, squeeze them gently with a paper towel. Transfer to a large bowl.
Mix and serve: Toss your kale and cabbage with a little dressing; massage it in with your hands for a minute to make sure the kale is tender! Add peanuts, peppers and remaining dressing. YUM!
Preparation time:

15 minutes

Category:

salad

Method:

Chop

Kitchen:

American
Keywords: peanut salad, peanut kale salad, crunchy kale salad
Recipe card powered by
Frequently Asked Questions About Crispy Kale Salad with Roasted Peanuts
What can I use instead of roasted peanut oil?
You can make this dressing with avocado oil instead of peanut oil – the flavor will change quite noticeably (less peanut flavor, obviously), but the texture will be similar! Or, if you want to keep the peanut flavor, you can use this amazing peanut dressing/sauce.
How long does this salad last?
Once mixed together, it keeps fairly well in the fridge for 4-6 hours.
How do you prepare and store this for meal prep?
Mix kale, cabbage and herbs together; Store everything in a container in the fridge. Slice the peppers; Keep refrigerated. Blitz the dressing; Keep refrigerated. Chop the peanuts; store at room temperature. When you're ready to eat, assemble your salad pieces!
What other protein would work well here?
I made it with grilled chicken, shrimp and edamame!
How do you do this without gluten and/or dairy?
It's gluten and dairy free as written!
Can you chop kale and cabbage without a food processor?
Yes – I would recommend using a mandolin instead of chopping by hand for a very fine grated texture! But if you only have a knife, that will do the trick too! 🙂 Simply chop everything very finely.
Don't Miss These 3 Kale Recipes