The airline industry is often accused of moving too slowly and lacking innovation, but are these labels justified?
Lufthansa Innovation Center (LIH) dove into patents filed by the 50 largest airlines in the world by revenue to gauge innovation, and while it's an interesting read, it's not necessarily pretty.
The study, based on operators who filed at least one patent in the last 20 years, found that there were about 19 patents per year between 2000 and 2012, followed by a peak in 2013, but that the years since 2016 have been marked by a sharp decline in patents, with only two in 2021.
A caveat to the results is that data for 2022 and 2023 may not be complete, with patents often not being published until 18 months after submission.
Report author Kolin Schunk, senior research and intelligence analyst at LIH, presents a number of reasons for the slowdown, such as airline industry consolidation, pervasive financial constraints on airlines, compounded by the COVID, and the outsourcing of innovation by carriers. while they focus on flying planes.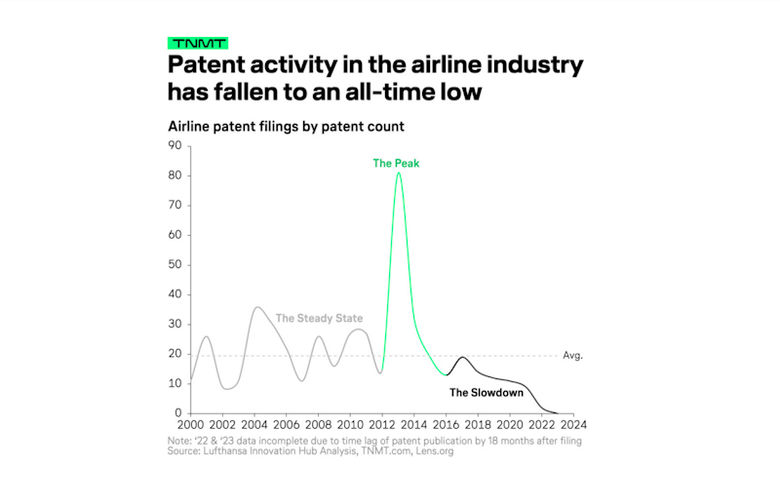 Another reason presented in the report is that airlines do not necessarily file patents when innovating, and that there are other, perhaps faster, ways that generate higher returns, such as trademarks. .
To give some perspective, Apple was granted 62 patents in one day in August, while a travel tech company was granted at least 10 in 2022 and at least four since May. Meanwhile, a major hotel company was granted two patents in 2022, so perhaps the reasons cited above apply to the entire travel industry.
The ranking of patents since 2000 places American Airlines, United and IAG/British Airways in the top three places with 250, 77 and 50 patents respectively. Delta is not far behind with 46.
The study speculates that the dominance of US-based carriers could be attributed to the litigious environment there as well as a factor related to the country's economic strength. That said, smaller carriers, including Southwest, which holds patents on operational efficiency, and Air New Zealand, which holds patents for cabin developments, also feature in the top 10.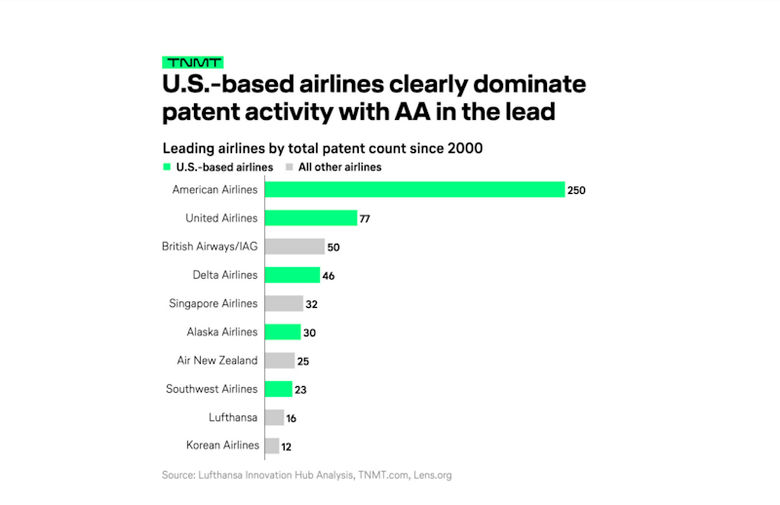 The report concludes that patent citations by other players, both within and outside the travel industry, can be a good measure of technology leadership.
For what? Because it gives others the opportunity to further develop particular areas of innovation, the study says. He also revealed that American's revenue-enhancing technology was cited by Concur, Google, IBM and Saber, while an automated check-in initiative by United was cited by Snap and Foursquare.
Subscribe to our newsletter below
The report also highlights the areas airlines are paying the most attention to: 57% of patents were in seat design, 29% in reservation and ticketing to simplify processes and introduce personalization, 7% in revenue and 7% operations.
Previous LIH research, based on reviews, has revealed that flight disruption was the biggest problem, and the report wonders why carriers aren't focusing more on this. However, what the report does not cover is that the focus on seat design may be due to higher returns for airlines: better seats, more money, class of often higher cabin, even more money.